STRONGER Provides High-end Fluid Connection and Control System Solution
Pubdate:2012-12-27 14:53 Source:lijing Click: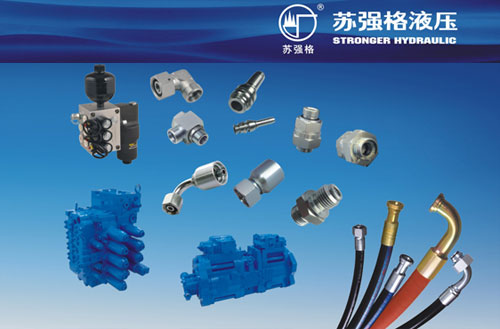 Zhejiang Stronger Hydraulic Co., Ltd., a hi-tech enterprise located in Zhejiang Province, is one of the largest-scale manufacturers in China which produces hydraulic hose assemblies, hydraulic hose fittings and adapters, valves, cylinder, hydraulic plunger pump, as well as engineering machinery vehicle brakes.
Its products were widely used in engineering machinery, mining machinery, hydraulic connection in metallurgy and petroleum equipment, dynamical and control system.
STRONGER will especially recommend hi-end fluid connection and control system solution at the 13th China International Petroleum & Petrochemical Technology and Equipment Exhibition (cippe2013). (Booth: W2660)
With over 20 years' experience in fluid joint system, professional facility and testing equipment, the company ensures the fault response to be less than 1/1000 including the inside and outside of the machine. In addition, STRONGER is an excellent supplier passed Caterpillar quality certification with supply defect rate lower than 1/100.
STRONGER owns a series of technical advantages to confirm the overall performance such as home-made metal fittings, hose assemblies with one-piece withhold technology, international famous brand hydraulic hose, new surface treatment process and imported sealing parts and accessories.