PCK, China Largest Production and Export Base of Large dia. Straight Seam Welded Pipe
Pubdate:2013-01-06 17:13 Source:lijing Click: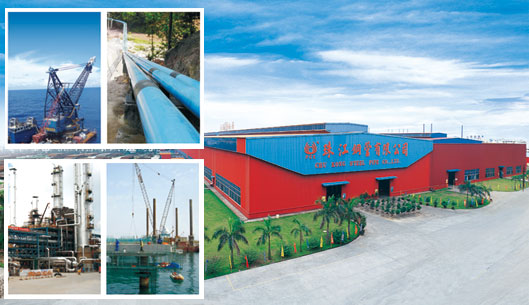 Panyu Chu Kong Steel Pipe Co., Ltd., (Abbr. PCK) founded in 1993, started listing in Hong Kong Stock Exchange in 2010.
The company owns 5 production bases located in Panyu and Zhujiang City of Guangzhou Province, Jiangyin and Lianyugang City of Jiangsu Province and Saudi Arabia separately equipped with 9 welded pipe production lines such as UOE, JCOE, HFW, COE, SSAW and overall anticorrosive, cement weight production line, annual output reaching 2.71 million tons.
PCK sells its products to over 50 countries and regions such as the Middle East, Europe, America, Southeast Asia and Africa which ranks as China largest production and export base of large dia. straight seam welded pipe. "PCK" as a trademark was registered in the USA, Brazil and over other 20 countries and regions.
PSK mainly provides large dia. straight seam welded (LSAW) pipes, high-frequency electric welded (HFW) pipes, spirally submerged arc welded pipes and corrosion resistant alloy (CRA) composite/lined steel pipe, batch supplies 114mm-1829mm (4"-72") welded pipes, and kits various forms of anti-corrosion steel pipe such as FBE, PE/PP, cement weight, asphalt and cement and all kinds of curved pipe, elbow, reducer.
PSK will display steel pipes introduced above at the 13th China International Petroleum & Petrochemical Technology and Equipment Exhibition (cippe2013).(Booth: E3720)